Marilyn Monroe
It's a style icon, a legend ...
Inspired millions of people around the world.
What makes all of her inspiration?
What a secret from the world deposited in the vault of one of the banks?
Why are trained weightlifting?
Who was the man whose picture was in any of their homes?
Do we really had no children?
5 August, which today marks the 50th anniversary of the death of the legendary star Marilyn Monroe.
The former collector of men's hearts, and as sens-trative reports her last biography, not to lean too feminine charms.
Why
raise
such
a sensation
?
Where did
all the secrets
?
Why
MM
is still
a mystery?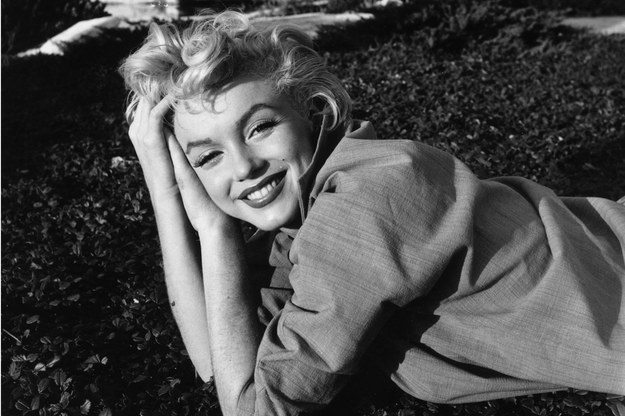 Abraham
Lincoln
The sixteenth
president
of the United States
was the only
man she
had a
picture of Marilyn
in each of its
apartments.
His figure
interested her
since childhood,
she read
a book
about him
.
Why the
fascination
?
He recalled years later
that the
student
was weak
and
only once
was
for something
at school
highlighted.
13
-year-old
Marilyn
Monroe
(then
Norma
Jane
Baker
Mortenson
) wrote
this
personal
essay about
the president
who
abolished slavery
in America,
the
English teacher
,
reading them,
weeping.
She told
Marilyn
then
read
work
aloud
in class
.
"
I do not remember
ever
feeling
as a child
to
someone important
. Besides
at that
moment
,"
she said.
In
adult life,
Monroe
talked
about the incident
for many people
.
She said
once that
she married
the writer
Arthur Miller
(her
third husband
)
because it
reminded
her
of Lincoln.
Blonde?
Marilyn
Monroe
, who
went down in
history as the
blonde
of all time,
was ...
brunette
(
Look
carefully at
the
photographs
of the
mid-40s
).
The hair
dye
started
at the beginning
of his
film career.
He persuaded her
to
Johnny
Hyde,
the influential
Hollywood
agent
and
lover of
Monroe,
her senior
by 30
years.
Many people who
worked
with her
claim that
was obsessed with
"his
blond
hue
."
When
in 1956
she played
in the movie "
Bus Stop
" with
young actress
Hope Lange
, whose
hair was
brighter than
her
, she became
hysterical.
Quarreled
with the director and
announced that it
will not appear
on the plan
until
Lange
does not change
the color of
hair.
It has not helped
any
persuasion
-
film
partner
eventually
had
to dye
her hair.
When
Monroe
because of
alveolar
surgery
was in the
hospital,
the
nurse
noted that the
actress
on the
dyed
blond
pubic hair
also
.
Walking goddess
That was said about the way she moved.
"When it glided his erotic zigzag, her buttocks bounced like two young puppies roaring under the sheet," wrote the journalist James Bacon MM, one of her many lovers.
After a Hollywood joke circulated that Monroe is the only actress who can make a big entrance, away from the camera.
Directors were hanging around the back so long sequences of strolling Monroe, and the 20th Century Fox, which was associated with long-term contract, came thousands of letters asking for "more such moments."

Amy Greene, one of the closest friends of the actress, she confessed years later that the star had a special patent to emphasize their moves: one of the heels shortened by five millimeters, which meant that her buttocks with each step moving up and down.
With this trick, as yet little-known actress, she won a role in the Marx Brothers movie "Love Happy" (1949).
Before casting Groucho Marx said to the candidates: "I will give part of one of you to walk in front of me so that I will go smoke from his ears."
After seeing a few girls did bored faces.
When Marilyn marched before him, he used a trick of his ears and suddenly started to go smoke.
Children
As the age of sixteen, shortly after his marriage in 1942, said the first man that wants to get pregnant.
However, James Dougherty convinced her that the child should wait for his return from the army.
But then Marilyn was no longer in the aircraft factory workers, only a model agency The Blue Book.
And instead of a child she wanted a divorce.
When I later became pregnant several times, still recognize that this is the wrong moment.
Undergone several abortions.
The shocking confession of Monroe is a story that as a fifteen-year old son was born, where her then-legal guardian gave up for adoption.
(Marilyn has permeated by more than ten foster families, single parents because her mother was in a mental hospital).
Amy Greene, her confidante for many years, commented that this revelation: "I do not know if this child was real. Marilyn liked to fantasize about the past. Sometimes I had the impression that the stories about her son drowned remorse removed pregnancies."
Ekshibicionist
MM
liked
shocking
nudity
, which in
the 50s
prude
America
required courage
.
At a party
at
a famous journalist
Willa
Fowler
suddenly
undressed
drunk
and
spent the
rest of the evening
,
parades
naked
among the guests.
He also liked
to walk
around New York
in a fur coat
thrown over
her naked body
.
If you encounter
your friend does not
believe
that there is nothing
underneath,
simply
rozchylała
fur.
She loved the
sexy
bras,
but
in their everyday
wardrobe
often
did not include
pants.
Has set in
dismay
saleswoman
at a luxury
New York
boutique
on Fifth Avenue
.
In
her eyes,
pulled
the dressing room
trying on
a dress
before
and it turned out
that she was wearing
only a
bra.
In turn,
when she worked
on the set of
"
Niagara
"
in 1952,
went to the window
naked
in a hotel room
,
at which
her ​​fans
camped
.
They were
shocked
, but
Monroe,
as
she confessed
after years of
staying in
then
next to
the actress
maid,
giggled
amused
throughout the
event.
Phobias
When she lived alone, at night he often had disturbing fantasies.
It seemed to her that someone wants to break into the room that threatens to be a vague threat.
For this reason, she called often to friends in the middle of the night.
Lee Strasberg, the famous teacher of actors, often receive calls Marilyn night: "She could out-talk a few hours, talking about an unhappy childhood, or that her life has no meaning. Some of these conversations were so disturbing that I was following her and taking her to
night to our house. "
Other friends recalled years later that about three in the morning sometimes asked them for a common car ride.
After such expeditions usually wanted to accompany her to the bed, covered with a blanket and cuddle like a baby.
Then immediately asleep.
From stellar
When Monroe was already very famous, has become unpredictable.
The plan "Some Like It Hot", now the most watched film with her participation, was late for several hours, because the "need to decipher the book," while the crew on stand waiting for her on set.
She was so shaky mentally that she could not remember the one line, so some shots were repeated ...
sixty times!
One of the actors in a rage has washed champagne.
"Fuck off", it was the standard response when director Billy Wilder gave her a suggestion of an actress.
Years later he confessed: "After working with her ruled the aggression. Drove me to such extremes that, after returning home, I wanted to hit my wife just because she was a woman like Monroe."
Film partner, Marilyn, Tony Curtis, said even the hatred of the star (although in the past had an affair).
I once confessed, "kissing her, I felt like I was kissing Hitler."
Hoover
Proponents of the theory that MM was murdered because of an affair with U.S. President John Kennedy, head of the FBI charged to long-term, Edgar Hoover, the responsibility for her death.
But it is certain only that Hoover had to collect material about her life and contact with men.
And that in the early '60s
already had an impressive portfolio imprinted with "secret".
Many gathered there, the documents were destroyed after the death of an actress.
But one of the employees after years of FBI revealed that in the secret archives of the Federal Investigation Agency is still a lot of material on Monroe.
After Hoover's death in 1972, someone discovered that in his home office, at the center, over the years, hung a calendar with photos of naked Monroe Z. ..
1949 years!
Surveillance

Today it is no longer a secret that in the last years of his life Monroe was tapped by the FBI (microphones placed in all of its phones in the living room and bedroom).
Interestingly, however, that MM listened not only to undercover agents.
For many years, at the request of a jealous ex-husband Joe DiMaggio, who believed that once they married, the actress watched a few detectives.
They also installed in the apartments illegal eavesdropping.
There is also a trace suggesting that in the early '60s, when the brothers met MM Kennedy, tapped home the actress founded the Mafia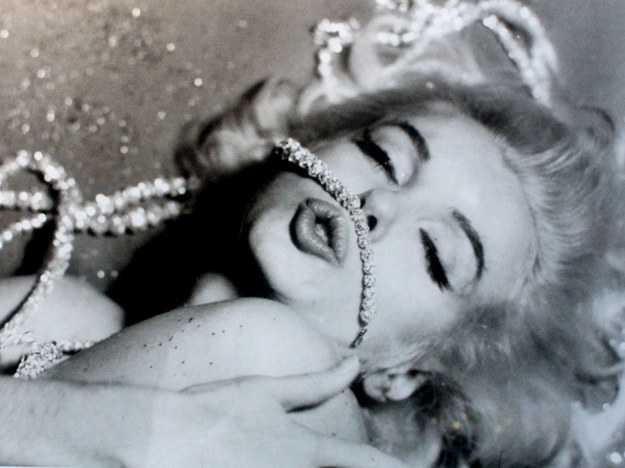 Lovers
In the early 50s
Marilyn, joking with a friend, she made a "list of guys with whom she would like to meet in bed."
They found on it such as
Jean Renoir, Ernest Hemingway, Albert Einstein, Arthur Miller, Elia Kazan and Yves Montand.
The last three combined it really romance (Miller became her husband).
But the lovers in his life Monroe was a lot more.
Often at the same time affairs with several.
The most famous include: Charlie Chaplin Jr. (son of famous actor), Marlon Brando, Frank Sinatra and John Kennedy (their affair began even before the inauguration of President JFK) and his brother Robert.
In the writings of Ralph Greensona, last psychoanalyst actress, she found a message that a few months before his death, Monroe alluded compulsive sexual relations with a completely random men.
I once slept with a taxi driver who drove her home in the evening.
Another time she went to bed with a workman remontującym apartment.
Did not hide from close friends, that such episodes in her life more.
Reading
As for the girl who finished schooling at age 15, she had a lot of intellectual ambition.
Read such
"In Search of Lost Time" by Marcel Proust, "Ulysses," Joyce, "The Magic Mountain" by Thomas Mann and the "Letters" George Sand.
He also studied the work of Freud.
She could not foresee that her personal writings and poems, published as "Fragments", a few decades later, become a publishing event.
And that alone is a hero not only of several biographies, but novels.
The best known include
"Blonde" by Joyce Carol Oates and "My week with Marilyn," Colin Clark.
Flats
Since I could afford my own apartment, their interiors always look the same.
All (the color of walls, carpets, curtains, bedding and furniture) were white.
One of the few colored gadgets in the interior was pink phone - to talk with special people.
She had a second, white, for routine contacts.
Once worked as an international star for several months in the UK with Sir Laurence Olivier, the record company rented for her by one of the English lords of the castle tasteful Parkside House.
Monroe said that he would move there only if the interior of the premises occupied by it will be "decorated in white."
Castle refurnished according to her wish.
His first and only home she bought six months before his death.
Liked her to put on his entering the Latin inscription: "Cursum perficio" (finish the journey).
Unusual experiences
Perhaps the least known episode in the life of MM is that in 1944 she trained weightlifting.
She lived with her husband Jim Doughertym first on the island of Catalina, near Los Angeles.
He treated her strange hobby seriously.
After years of them commented ironically: "She did it at all costs to attract the attention of the soldiers stationed on Catalina. Whole herds appeared in training to look at her in an effort prężące the body. It was the first way to call attention Marilyn crowd
".
Weights of sport is not the only episode in the life of MM.
As a twenty-year, shortly after the first divorce, she trained under the guidance of former surfing bodybuilder Tommy Zahn.
Tight dresses
Only such tolerated.
Chose creations close to the body, preferably with a huge neck.
She was one of the first actresses in Hollywood who introduced the fashion for "sewn dresses."
Before the gala creative seamstress narrowed so that it was impossible to remove without ripping her stitches added.
Ubieranym the stars in such creations advised to avoid drinks, because independent visit to the toilet in the "sewn dress" was doomed to failure.
Monroe had a couple of times because of this trouble because they usually drank a lot.
Rushed to the rescue of its directors wife, with whom she worked.
Friend
Always a lot of talk about the Monroe and men.
Less about the women's friendships, it deemed very important.
At the end of the 40s
one of the closest of its people was Ella Fitzgerald, the jazz singer known anyone who was earning, the child singing in bars.
One day he confided to Monroe that would occur in the Mocambo, one of the trendiest nightclubs in Hollywood.
In his memoirs Fitzgerald later wrote: "Hearing this, Marilyn just grabbed the phone and called the owner of the Mocambo. She said that if you let me on stage, she will reserve a table in the front row for each of my shows. Immediately got a contract there. A
Marilyn kept her word. Almost every day at my concerts began to visit the biggest stars of Hollywood. Club also besieged by journalists, and I've never had to worry about the next performance. "
Ronald Reagan
What to do with MM is the former U.S. president, who took office 20 years after her death?
It's fair to say that if it was not sure his idea may never usłyszelibyśmy about Marilyn.
In 1944, Reagan was the direct supervisor of a private David Conover, a military photographer.
He sent him to report for the magazine "Yank" about women working for the army.
He suggested the young photographer approached a trip to Radio Plane factory in which Marilyn lakierowała aircraft fuselages and verify the quality of parachutes.
In a week of work (ten hours per day) used to receive $ 20.
Photographer offered her five dollars an hour pozowania to his reportage.
Then I did it a few more sessions, which showed in a modeling agency The Blue Book.
Someone from there soon called Monroe.
She did not have any more work on the hall.
Conover claimed later that those viewing the pictures, Reagan drew attention to Monroe and said: "Too pretty to work in a factory."
Student
Her appearance at a workshop at Lee Strasberg's acting studio in 1955 caused consternation.
The class sat in the back row and tried not to attract attention.
Behaved like a good girl student, not the actress who was hailed as America's "sex symbol".
Eli Wallach, her fellow actor's studio, remembers it this way: "When I went out to the center, she was embarrassed as newcomer. I bit my lips, her eyes were timid ... A moment later played a role in such a way that suddenly the class begins to applaud
, although the school rules forbade it. "
Lee Strasberg himself summed up his work with Monroe like: "For my hands have passed hundreds of talented actors. But only two times I was sure that I work with great talent. When I taught Marlon Brando and Marilyn Monroe."
Marilyn tricks
Her protruding from the tight sweaters and satin dresses warts on men worked stunningly.
She wanted it that way.
The problem is that he can not wa cause of this effect in a natural way (did not help, even rubbing the ice chest before entering the plan).
So often wore the little round buttons on her blouse.
And they were gathering at this number.
She was also a way to sensual lips during photoshoots.
When the photographer pressed the shutter, she whispered "fuck me" (literally "fuck me").
Moments later laughed at the challenge, explaining that the word turns her face and gives her erotic allure.
Since her death half a century has passed, but with each passing year, her life more colorful.
Seduced by the mafia
Until recently, Monroe affair with Frank Sinatra was thought to be one of the countless adventures erotic actress.
In recent years, thanks to leaks from the FBI there was another version of this relationship.
Sinatra was linked to the interests of several Mafia bosses, among others, Paul D'Amato - the enemy of the Kennedy clan.
Sinatra began to look for opportunities to romance with the actress in 1961, just when already met with the brothers Kennedy.
Her relationship with singer raised concern about the President's Men.
It was feared that through Sinatra's mafia wants to discredit Kennedy.
Grand entrance
It was an absolute specialty Monroe.
Was late for parties, premieres and film set.
Usually, going as if they had absolutely no idea that everyone is waiting with baited breath for her for several hours.
According to people from the vicinity of the actress, it was rather than real, studied beyond carelessness.
As one of the most spectacular "enter" means enter Monroe to Madison Square Garden in March 1955, where he arrived on ...
pink elephant.
At the sight of several thousand gathered there on the occasion of a charity event fell into euphoria.
As journalists wrote afterwards: "Painted elephant and Marilyn in a very seductive outfit formed kusym phenomenal pair. New York fell to his knees."
Notes
Even more exciting than the recently published "Fragments" by Marilyn Monroe may prove to be her other writings.
Shortly before his death, confided to Paula Strasberg (Lee Strasberg's first wife, with whom she befriended at the end of life), that during her affair with President John Kennedy and his brother was doing detailed notes of conversations that led to them.
She claimed that she wrote a diary full of intimate relationships with their meetings.
She called him "little red book".
The entire collection of these notes, together with correspondence, which would lead to the president and his brother (not impossible, for they behaved incredibly careless), Monroe was in the safe deposit of an American bank with orders that "everything has been revealed 50 years after her death
".
"Then I will not harm anyone," said Paula Strasberg to the enigmatic smile.
If you are not bluffing, you may soon again be loud about Marilyn.
Exactly five August 2012 marks fifty years since her death.
She was
so young
, vibrant
, smiling
...
What was
the
truth?
Why
she died
?
Is it really
a suicide
?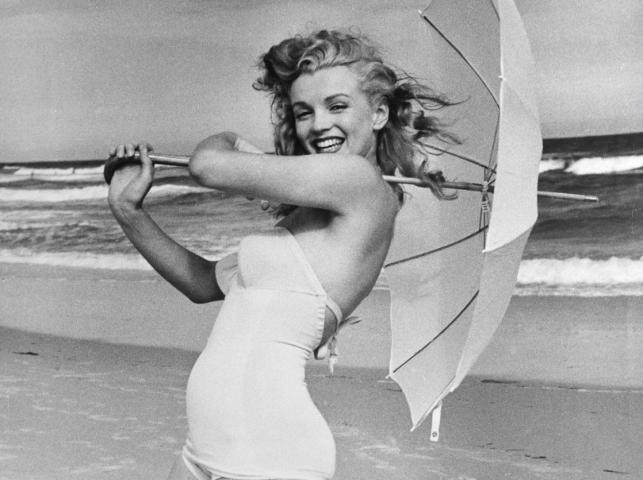 Skye